Working with Loreto College to think, act and purchase greener!
It may be one of the most historical colleges in Manchester, but Loreto College is also one of the most modern, forward thinking establishments in the North West and they are now more than ever, determined to do their bit for the environment… thinking, acting and purchasing greener when it comes to their printing choices.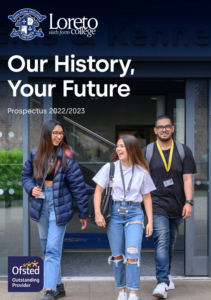 Based less than a mile from Manchester City Centre, the college has been educating generations of Manchester students since 1851.
In addition to their esteemed history, Loreto boasts some of the most fantastic, modern and up-to-date facilities around, with their most recent Ofsted inspection stating that they were "outstanding in every respect."
And it is that very success which continues to attract generation after generation of new students through their doors and that is where printing and more specifically their College Prospectus plays a leading role.
Here at Peter Scott Printers we are delighted to produce that very prospectus, which includes using Carbon Balanced Paper.
For those not familiar with Carbon Balanced Paper – it is paper for which the carbon impact of the production and distribution process has been balanced, or offset, to reduce the environmental impact.
For the creation of their Sixth Form Prospectus, College Enrichment Leaflet and Application Form, Loreto have offset 2.673 tC02e and planted two trees, thereby offsetting carbon emission, helping to prevent climate change and creating space for wildlife.
A spokesperson from the college said: "At Loreto College we actively want to promote our commitment to the environment and sustainability wherever possible.
Using the carbon balancing scheme on the paper for our prospectuses is a highly effective way to illustrate this and we hope that seeing the details of the positive effects of this action, alongside the use of the World Land Trust logo, will also encourage others to do the same."
Do you want to make both your business and the planet greener? Give our team a call on 01282 452221 to chat through the options.